Posting has been slow this week because a lot is happening right now:
Shane is moving to Hawaii to pursue a Master's Degree in New Media. We're going to run a satellite office for him from there. If you're in Hawaii, we would love to chat with you – or if you want to come out on 'business', we would be happy to meet with you for a short time so you can expense it out for the rest of your time…lol! w00t!
He has been our news blogger so we haven't been covering that as well for the past 10 days – he should be back up and running by the end of August/first part of September!
I (James) am currently posting this from San Diego, California but I'm flying out to meet a client in Tampa, Florida tomorrow evening. I was in San Francisco on Monday to meet with another fantastic, long-time client and I will post about our visit when I get back next week! I'm in San Diego for a family visit.
We'll be back to business and blogging like normal by Monday or Tuesday next week! I might post a few news/informative posts by Friday night – but watch for a big, meaty guide we're releasing next week!
Read More
Introducing the Link Builder for WordPress
The Link Builder simply tracks the websites and pages you link to and sends an email message to that website owner/administrator notifying them of your link.

Download the Link Builder for WordPress here

Then watch this video (update: haha – if you turn up your volume, you can hear a 'darth vader' breathing effect from my mic…sorry!) to learn how to configure and use the plugin: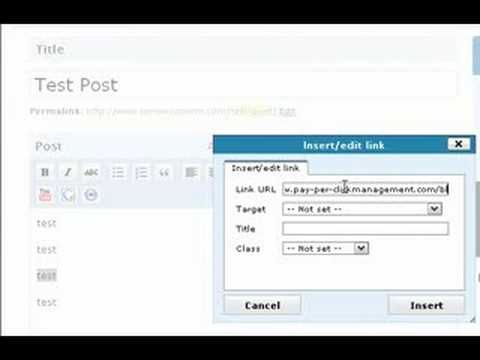 You can read the readme.txt file for installation instructions here.
UPDATE: Reminder - you MUST remember to edit your config file! And this is not a 100% automated tool – it is designed to be personal while simplifying your link building efforts.
Other Plugins that are built for SEO/Link Building from WordPress
Internal Link Building by SEOROI – This looks like it's an awesome tool although it didn't work with our admin/theme/template for some reason…haven't had a chance to look at it but it's received rave reviews so we recommend giving it a shot yourself!
All In One SEO Pack – One of our favorites. You control title tags, descriptions and keywords for every post and page or you can let the pack update them automatically!
Two Excellent Guides To Optimizing Blogs
WordPress SEO – The Definitive Guide To High Rankings for Your Blog
The Blogger's Guide to Search Engine Optimization – Aaron and Giovanna Wall of SEOBook.com fame wrote this awesome guide…a must read!
About the Programmer: The programmer that was our lead dev on this plugin is Simon. We own the copyrights, programming and design – but Simon is a fantastic resource and he is freakishly fast with WordPress dev stuff if you need him.
Read More
The United States Justice Department has stepped in on the Google/Yahoo! ad deal, opening a formal antitrust investigation. According to the Washington Post, "Google and Yahoo officials have said since the deal's announcement that they would delay its implementation for a voluntary Justice Department review."
In essence, the deal that the two search engine giants have worked out is that when Yahoo! runs out of ads to serve, Google will supply the rest. This will help Yahoo! to deliver ads for some of the more long tail search queries.
So it looks like there's going to be some investigation, deliberation, etc., into the antitrust implications, and we of the PPC community will just have to see what happens.
Yahoo! and Google both say that the deal with be good for competition. We're hoping that the deal turns out to be good for us. In fact, when it all gets sorted out, we kind of hope for the following sort of anti-trusty, merger-ific mistake:
Oh yeah!
We know that's probably not going to happen, but here's to wishful thinking!
Note to people who are inclined to look at screen shots without reading the accompanying posts: The above screenshot is fake. We made it. This did not actually happen on a real Yahoo! search. Also, Ad #2 is very unoptimized, although we are thinking of testing it and see what kind of conversion rate we get…
Read More
The past few weeks I have been pushing 90+ hour work weeks…and the only part that I'm bummed about is the lack of time spent with my family – who are very important to me so I will slow it down because family is, and always will be, an acceptable and enjoyable reason to take it easy. Take it easy means 50-60 hours a week instead of 90+ hours.
Why would anybody put in hours like that?
I don't know. It's insane…but it's inspiring at the same time.
I'm definitely not the first to do it in this industry and I won't be the last…in fact, I would be willing to bet that a bunch of my competitive colleagues put in more hours than I do every week!
How is working 90+ hour work weeks inspiring?
What inspires me are the executives, founders, individuals, marketers, investors, competitors and others that I get the privilege of working with and for and against
– you can tell they didn't get where they are without a heck of a lot of hard work, some good fortune and determination. They all have a fantastic story to tell and I get to learn from them and I get to participate in their success in some way or another. I feel very lucky to play even a small part in helping others grow and succeed on the web.
I don't always succeed…and my excuse is that it's marketing so it's always a risk.
What I'm really doing is cataloging every failure and creating this arsenal of experience, education and knowledge that I can use in the future as a list of what not to do…then again, if a particular situation calls for it, a previous failure can get resurrected and be a huge success! Isn't the world wide web fantastic that way?
The most inspiring part of the long hours is the opportunity I have to improve the future living situation of my family by helping others secure their future today. Employees, clients and my family have dreams…and I'm here to help in whatever way that I can.
Read More
I hope you enjoy this brief intro to Shane – our new VP of E-commerce! You can expect to see some blog posts from him as he forges onward with our advertising experiments in E-commerce settings that we wouldn't otherwise try with our clients.
Shane Snow received a bachelors degree in Business Management with an emphasis in Marketing from Brigham Young University-Idaho.
Prior to joining QualityScores, Shane was a Small Business Web Marketing intern at ICSERV Inc, a national web design firm. He also interned as a graphic designer at PolicyTech, an international software company. After his various internship experiences, Shane opened up his own website design firm in collaboration with Gregory Hess. The firm, Brave Media LLC, has designed and developed informational and e-commerce websites for more than 25 businesses nationwide in the past year. He also operates a business and flyer printing website and a kissing advice website.
At the same time, Shane has been a columnist for Scroll Newspaper in Rexburg, Idaho, for the past two years.
Shane is excited to bring his varied experience in graphic design, website development, search engine marketing, and copy writing to QualityScores as we launch our new E-commerce business unit.
On a personal note, Shane enjoys playing bass guitar in a band, is a master of Doctor Mario for the Nintendo 64, and is in denial that he's probably too old to keep skateboarding.
Shane is getting married this May. Congrats Shane!
Read More
I get random, trailing thoughts throughout the day that go something like this:
"That would make a good blog post…"
"I should write that down so I don't forget about it…better yet, I'll blog it so I have a searchable catalog of it"
"This is interesting, I wonder what others think about this"
"I definitely have an opinion about that, I should post it"
Then, I don't get a lot of time to expand on those thoughts beyond a few sentences so *drumroll* I decided to start posting my thoughts and opinions between roundups – most of them will be relevant and useful.
These small thoughts will be related to pay per click advertising in a direct or indirect way. I'll occasionally post something personal or out of touch with the subject but for the most part, you can expect little good snippets from me starting today.
Also, a disclosure – some of the titles of these small thoughts will come from something I read one or two days ago. I'll try my hardest to give credit where credit is due but if you notice a quote or a sentence that belongs to somebody else, kindly claim it in the comments and I'll edit the post to give credit where credit is due.
Read More